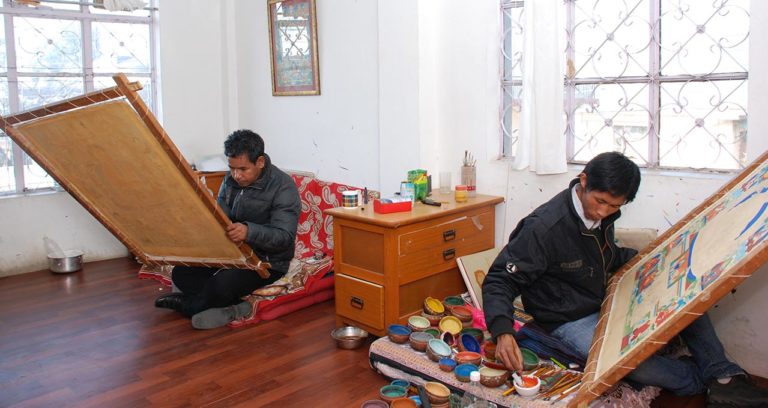 Traditional Medicinal Paintings:
From beginning of 1995, this department has taken an initiatiative work by painting project on Traditional Medicinal Paintings which was laid down in the Tibetan Medical System, there are total of 79 medical paintings ( Thangkas). The origination of these paintings goes back to Seventeenth Century AD, which were painted by renowned Thangka painters of that time who were summoned by Desi Sangye Gyatso. These Thangkas of Tibetan medicine holds great historical legacy and serves as an important source of references for students, researchers and Tibetan physicians. Likewise, the traditional illustrations of the high altitude medicinal plants in these Thagkas help in preserving the knowledge of identification of medicinal plants and to conduct studies and research. The Traditional Thangka painters of the department are supervised to produce exact replica of the complete set of the medical paintings. And this project was completed in 2010. Currently, Thangka painters of this department painting the Thangkas that are related toAstrological Science.
Botanical medicinal paintings:
The main focus of botanical medicinal paintings are to paint or draw actual morphological characteristics of medicinal plants and their natural habitat in the environmental adaptation and their structures such as sizes, colors and growth pattern etc. From depict and illustrations of medicinal plants one can easily and clearly identify the correct medicinal plants. In order to avoid confusion and miss-identification of medicinal plants, the botanical medicinal painting helps for a common identification of medicinal plants based on the fundamental of text and to introduce them to future practitioners.