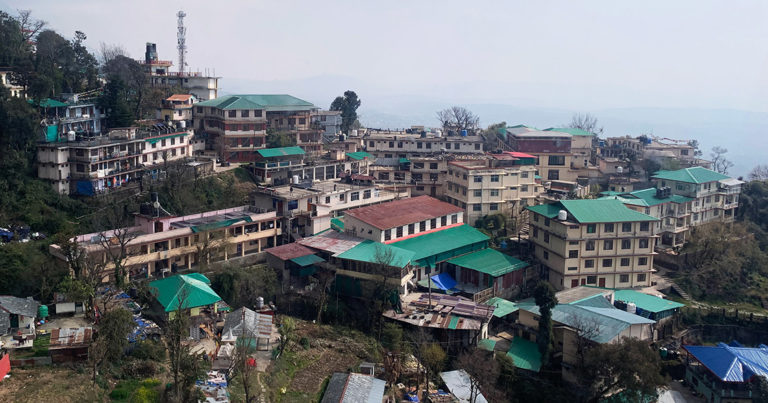 Men-Tsee-Khang was established in 1916 by the 13th Dalai Lama in Lhasa, Tibet. In 1959 the People's Republic of China invaded Tibet and His Holiness the 14th Dalai Lama fled to India followed by 80,000 Tibetans. His Holiness was given residence in Mussorie by the Indian Government and then a year later in 1960 was granted permanent residence in Dharamsala, Himachal Pradesh, India. Besides rehabilitation of the Tibetan refugees, His Holiness also started to set up religious, cultural and educational Institutes in order to preserve the rich ancient cultures and traditions of Tibet.
Thus, His Holiness the 14th Dalai Lama re-established Men-Tsee-Khang, Tibetan Medical and Astro. Institute in Dharamsala on 23 March, 1961. The Institute initially started with a doctor and an astrologer with ten students in two separate campuses in Dharamsala called Chopra House and Gleenmore Cottage. Dr. Yeshi Dhonden and Ven. Dukhorwa Lodoe Gyatso were the forerunners of Medicine and Astrology Schools. In 1967, the two schools were merged together as Men-Tsee-Khang, Tibetan Medical & Astro. Institute in Mcleod Ganj and shifted to the present location in 1982 where the Headquarter of the institutes operates.
At present Men-Tsee-Khang is a full-fledged Institute with a workforce of 738 as of April, 2022.
The Headquarter in Dharamsala works through several departments with their own activity of academic as well as administrative in nature.  The Academic field of activity includes, Men-Tsee-Khang College, Pharmacy Department, Astro-Science Department, Research & Development Department, Materia Medica Department, Documentation & Publication Department, Herbal Product Research department, Body, Mind and Life Department and China Desk.  The Administrative fields of activity included Main Office, Accounts, Branch Clinics Management, Human Capital Department, Incense Department Salugara, Internal Auditor, Medicine Store and Sales, Men-Tsee-Khang Exports. The Institute has 58 branch medical clinics and 3 Wellness centres.
| Designation | total |
| --- | --- |
| | |
| Astro. Science Practitioners | |
| | |
| | |
| | |
| | |
| | |
| | |
The main objective of Men-Tsee-Khang is to preserve, promote and practise (Sowa Rigpa), the ancient Tibetan system of medicine, astronomy and astrology. It also aims to improve the health and sanitation of the refugees in particular and the public in general and to establish dispensaries in order to provide accessible health care to the people regardless of caste, creed or colour.
Education and Higher Studies in the fields of Tibetan Medicine and Astrology, Research and collaboration with scholars and institutes in India and abroad between different healing systems and to produce Tibetan medicines in an environmentally sensitive manner are the important goals in the development of this ancient healing system.